30 Captivating Camp Free Stock Images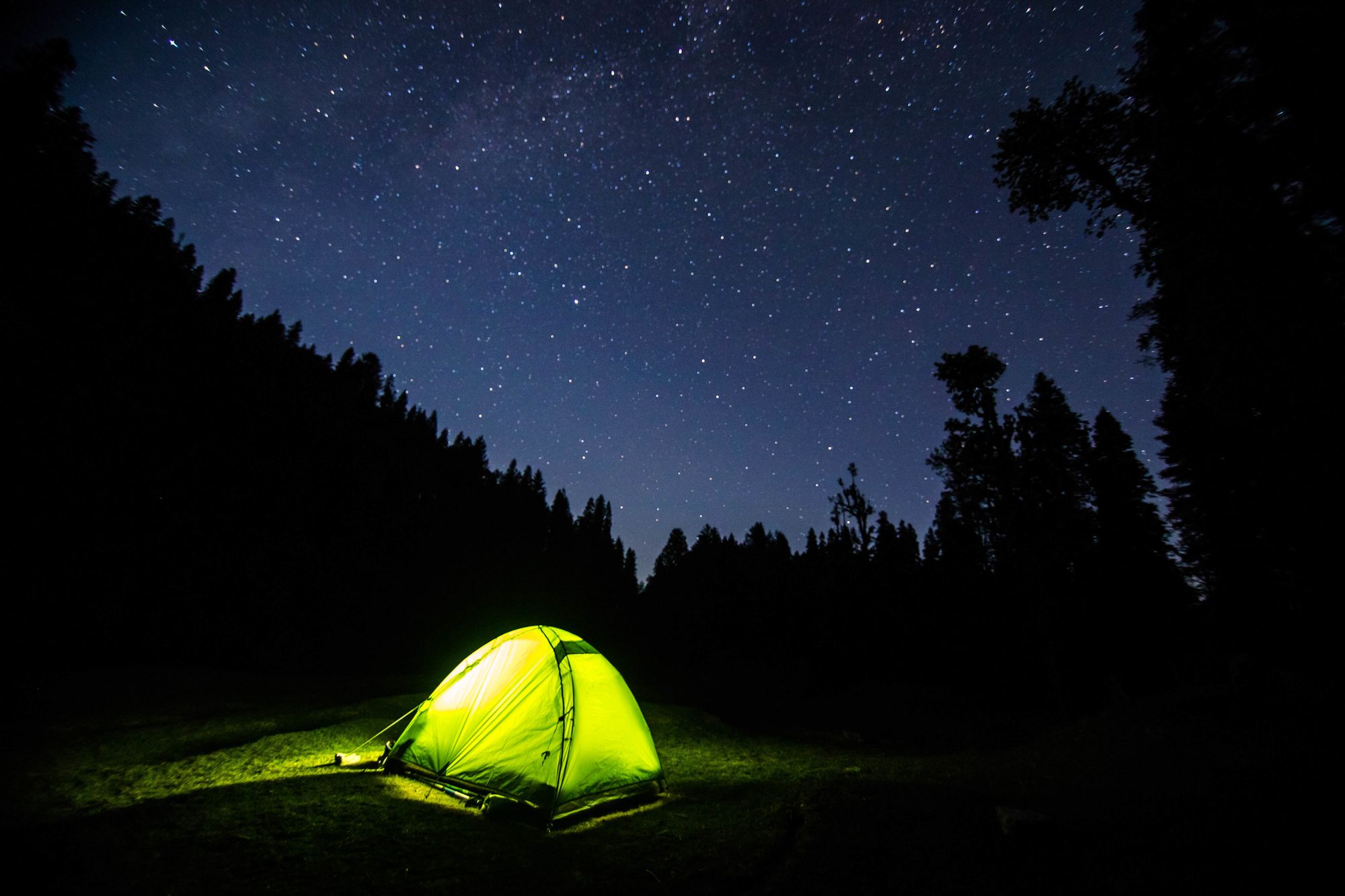 Camp culture seems to be gaining popularity around the world as more folks try to live in harmony with nature. If you are looking for a high-quality image of camping, you're likely to find it right here! From tent camping to van life, cabins, camp stoves and everything in between, StockSnap has you covered for all your project needs.
What types of camping are you interested in? Find a free stock photo that works for you in this list of 30 captivating camp images:
Camping in Teepee Tents At Night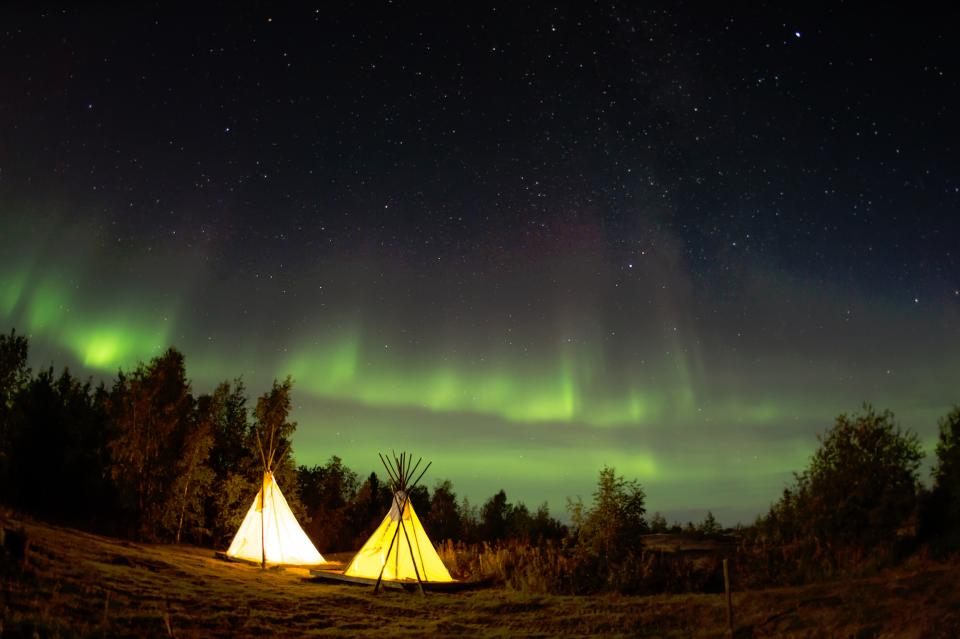 Awe your audience with stunning shots of night-time camping like this photograph by Ken Cheung that shows two teepee tents set up under a night sky full of stars and auroras.
RV Camping in Style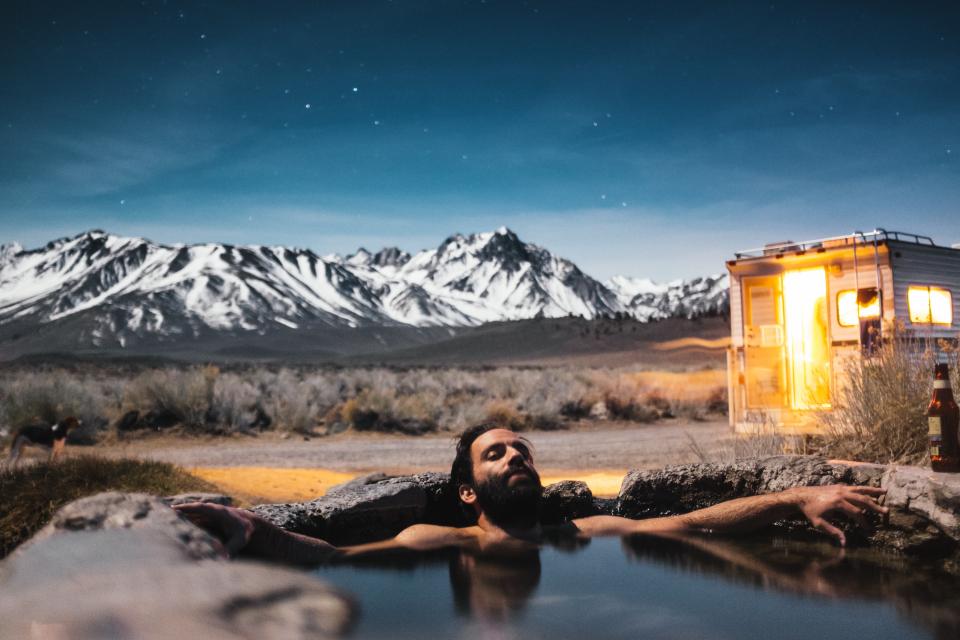 Show the benefits of living off-grid with this image by Robson Hatsukami Morgan of a man soaking in a hot spring with an RV and snow-capped mountain in the background.
Roasting Marshmallows Over a Campfire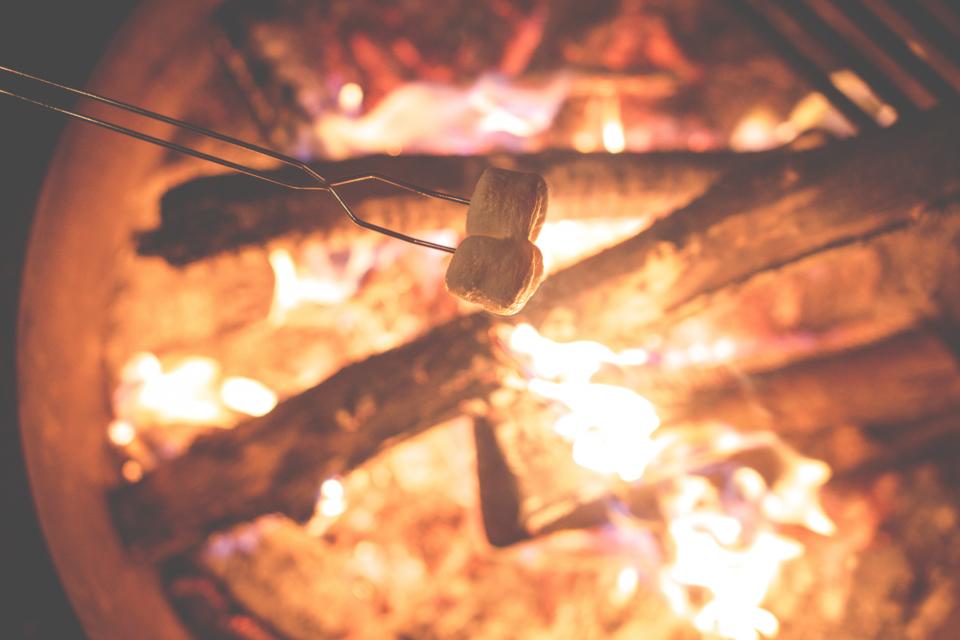 Nothing says camp quite like this image of two marshmallows roasting above a wood-fueled flame by Alex Holt.
Tent Camping in the Elements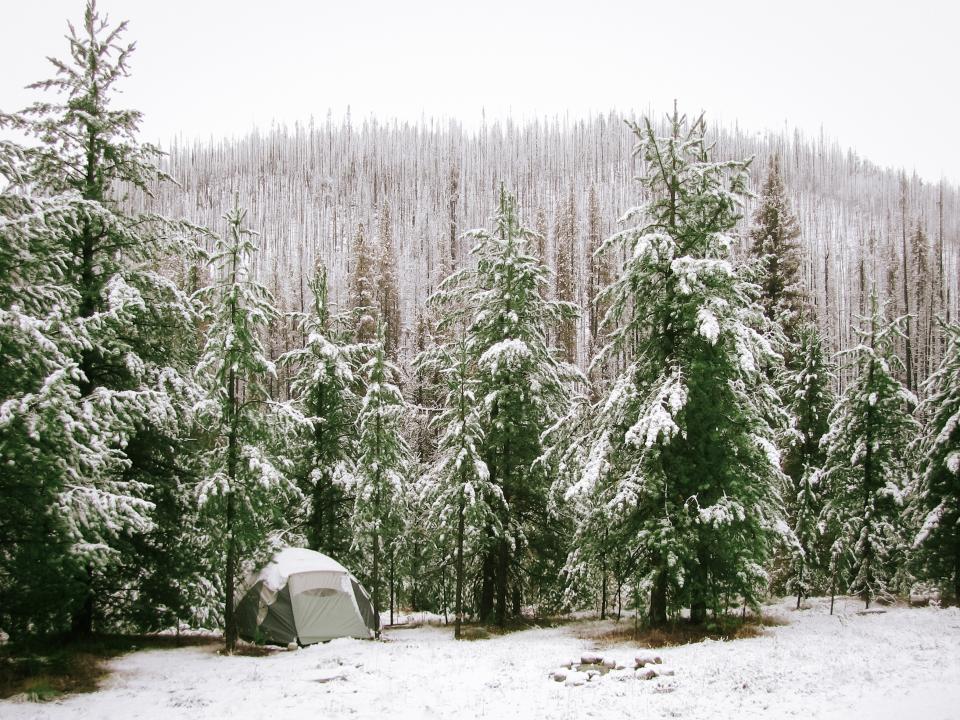 Embrace nature with this idyllic image of tent camping in a forest on a snowy winter day by Binyamin Mellish.
AirStream Camping in the Desert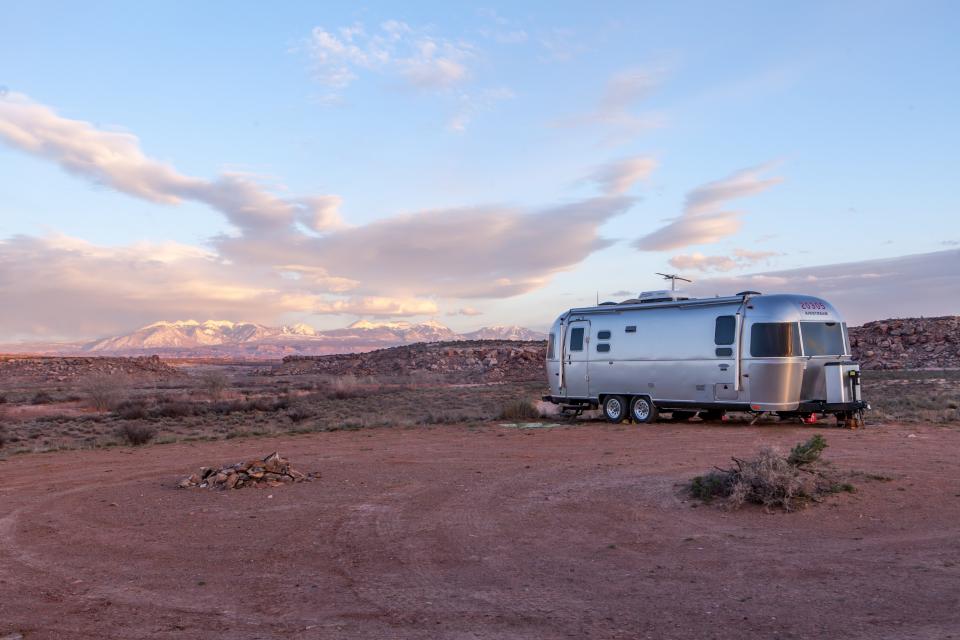 This image of an airstream camping in a desert landscape by Binyamin Mellish shows how calm camp life can be.
Log Cabin in the Woods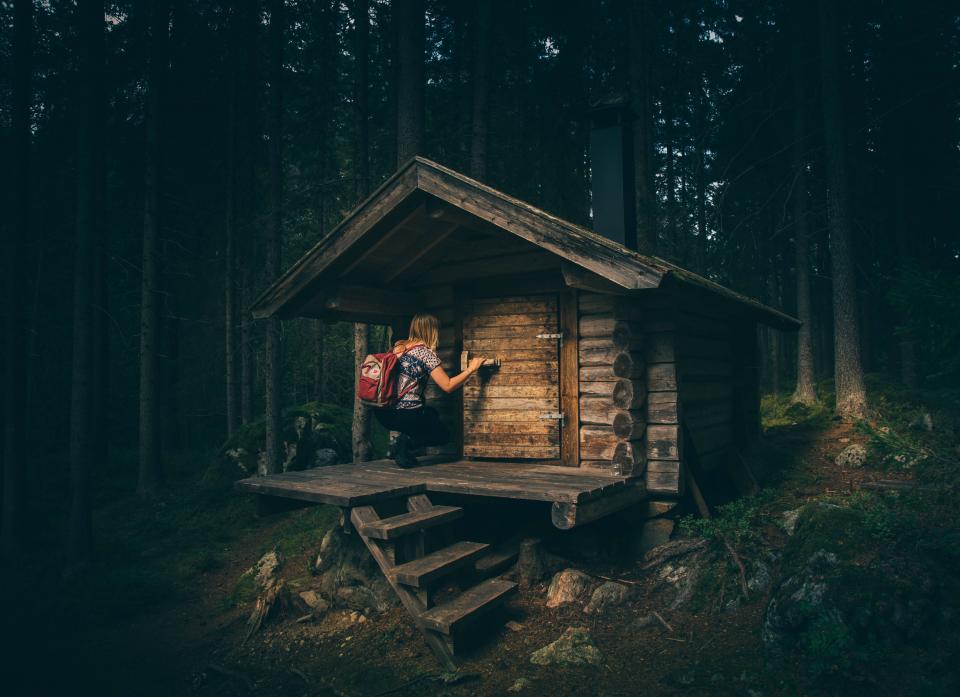 If you're looking for an image of a cozy camping experience, try this photograph by Geran de Klerk that shows a person entering a small log cabin surrounded by tall trees.
Views From a Travel Tent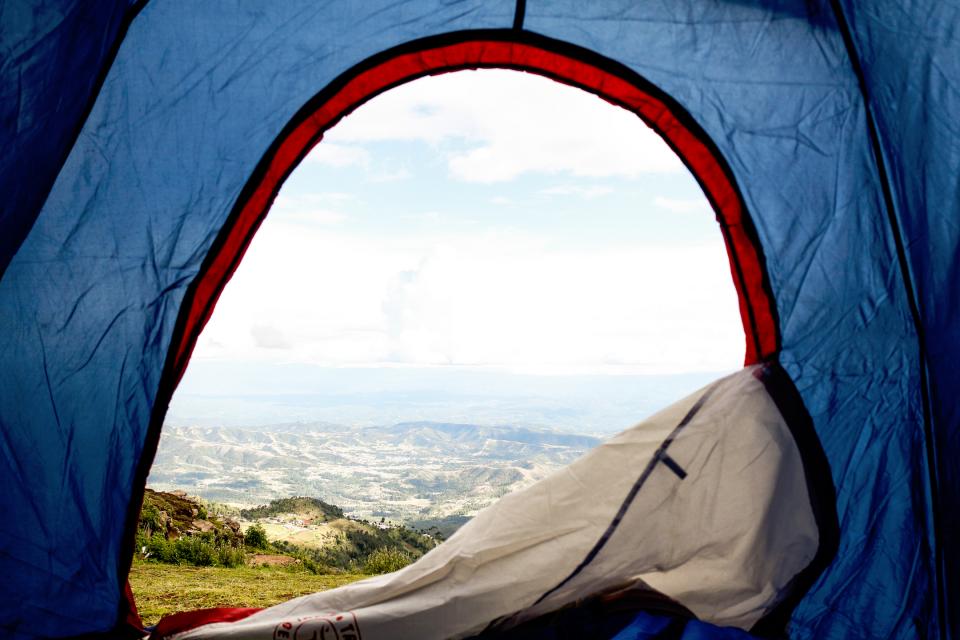 Immerse your viewers into the natural world with this view from a travel tent by Mel Elías.
Camping With Friends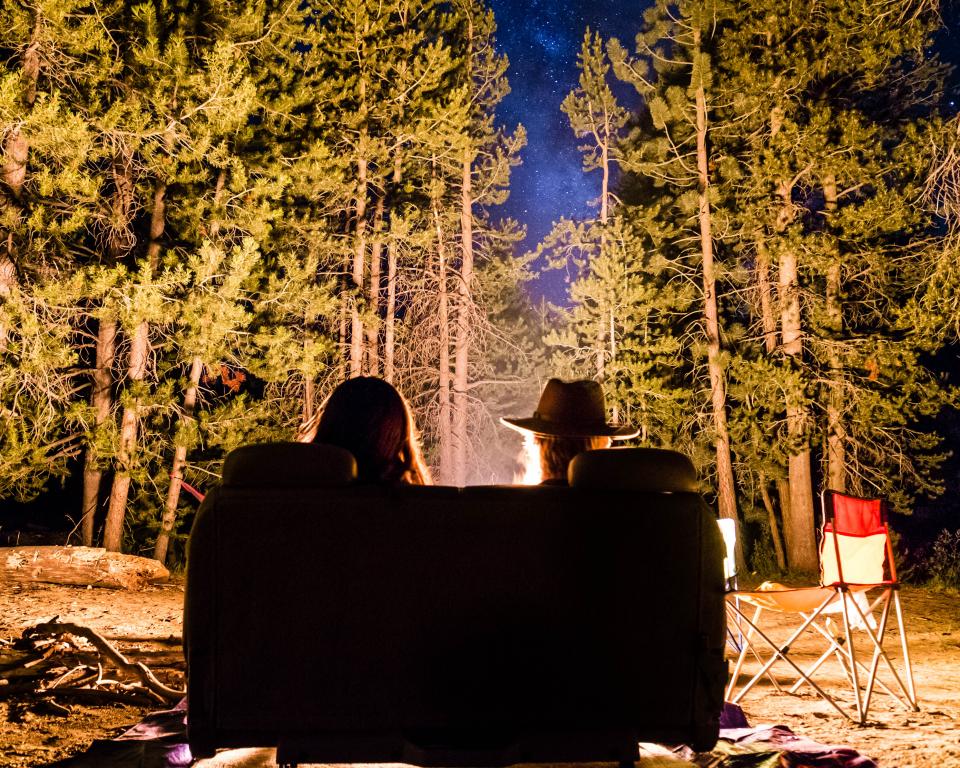 Camping is best enjoyed with other people. Evoke the feeling of togetherness with this shot of two people gathering around a campfire by Adam Griffith.
Hanging Out in Nature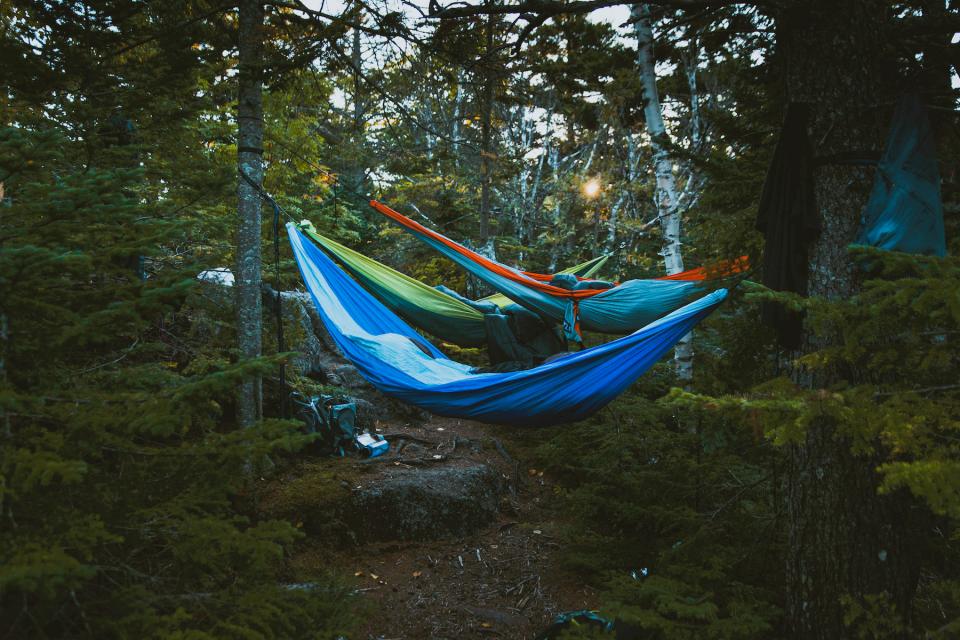 Show folks what camping is all about with this image of three hammocks hanging in the forest by Jake Ingle.
Camping Gear in Use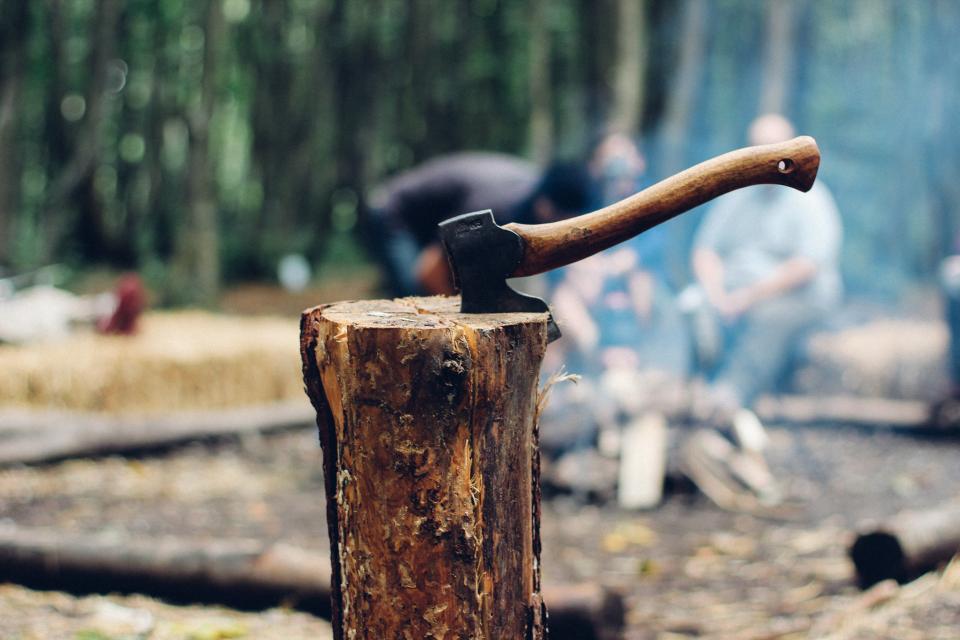 There are ways to talk about camping without showing a tent -  like this shot of an axe chopping into a piece of wood by Dan Edwards.
Camping in a Van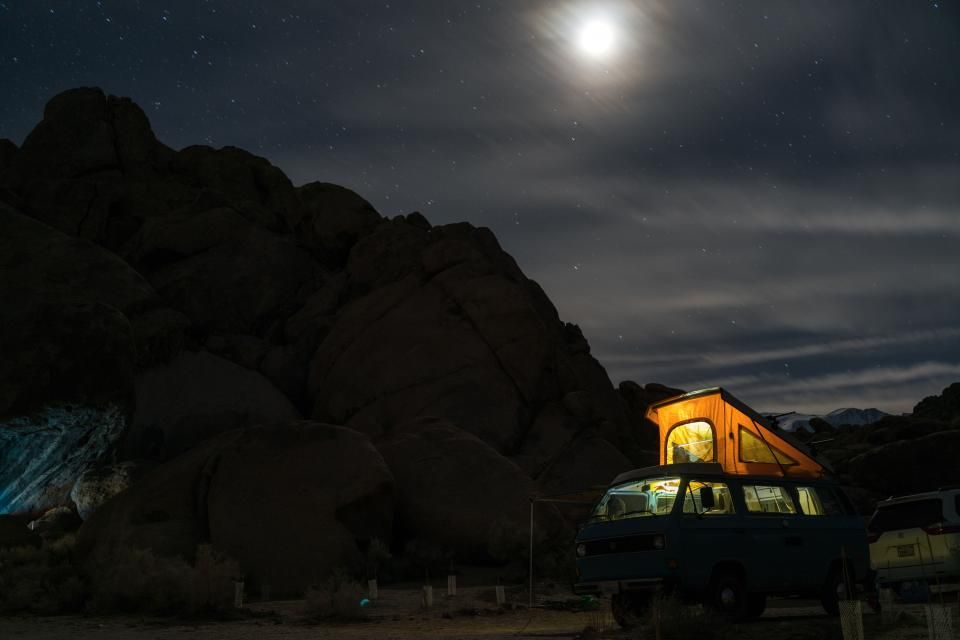 Camping in a van grants folks the freedom to see amazing views. This image of a VW bus with a pop-up bedroom parked near a mountain side, by Tommy Lisbin, is the perfect example of a nomadic lifestyle.
Campfire Conversations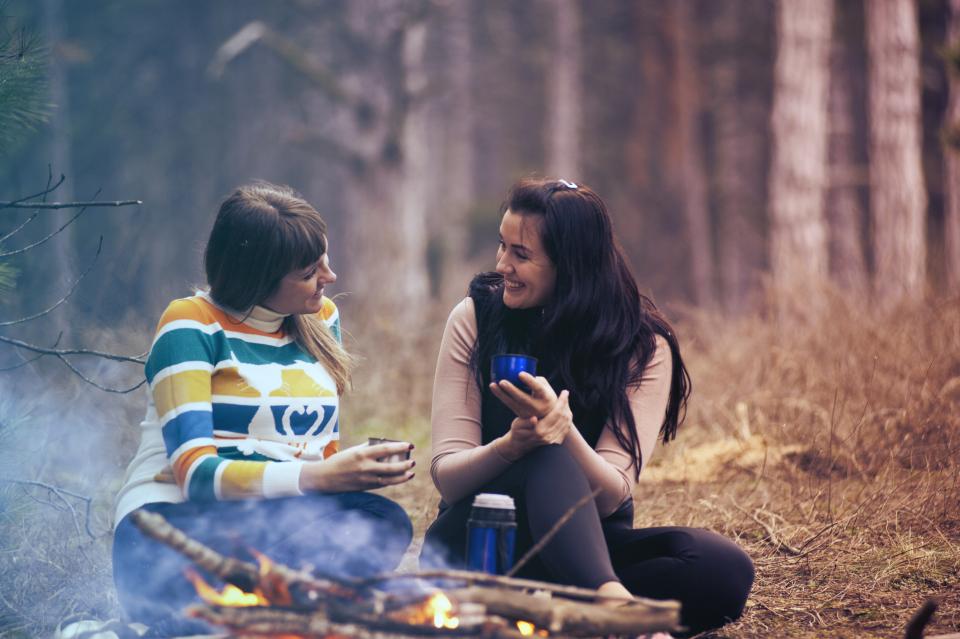 There's so much that can be discussed over a cozy campfire. Use this free image of two women talking and sipping from a thermos to add some warmth to any project.
Firewood Galore
Firewood is essential for camping so this image of fire logs, by Elliott Chau, would work well for a number of projects.
Campsite Fun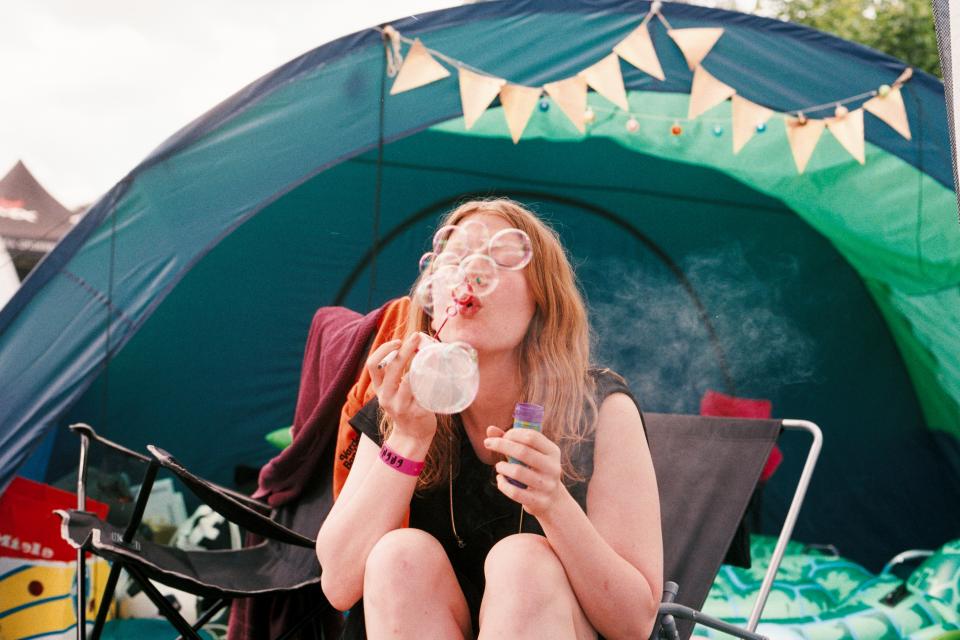 Evoke the feeling of fun with this shot of a woman blowing bubbles in front of a green tent by Jens Johnsson.
Cabin House in the Woods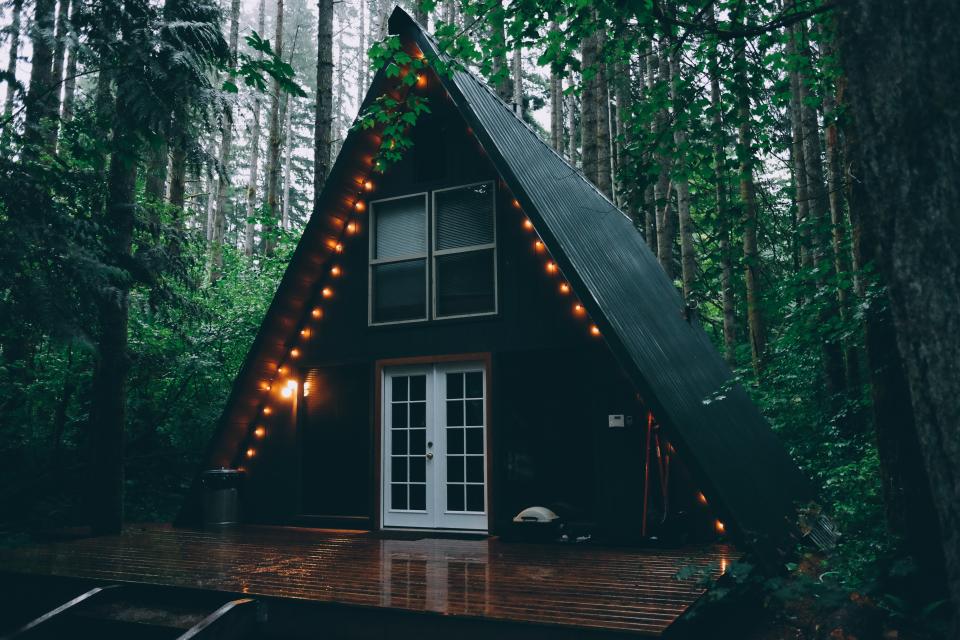 Show a stylish camping situation with this moody image of an a-frame cabin house in the forest by Alex Robert.
Colorful Campfire Flames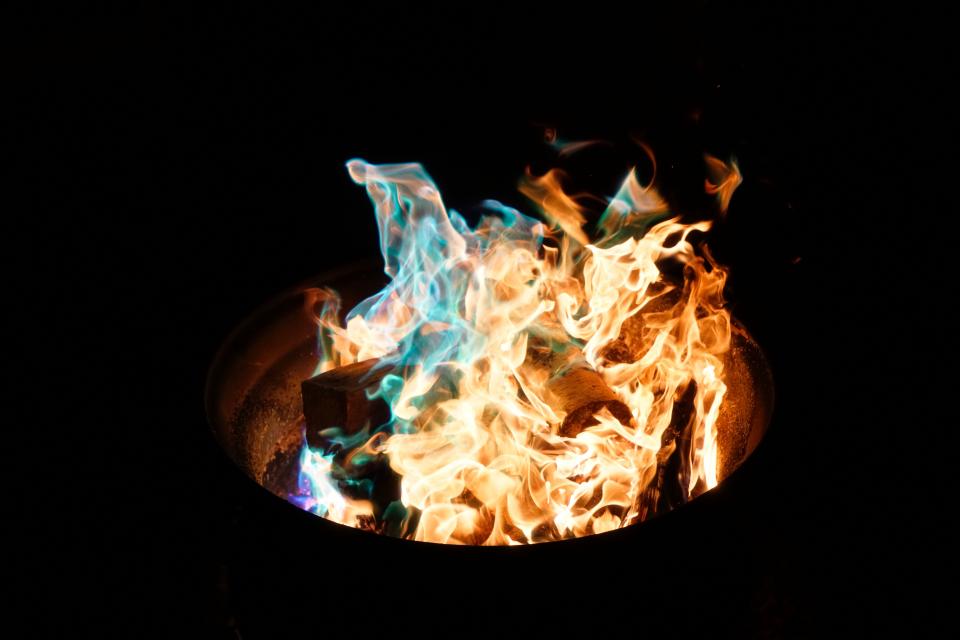 Warm up your social media profile with this alluring image of blue and orange campfire flames by Chris Rhoads.
Tent Camping in a Valley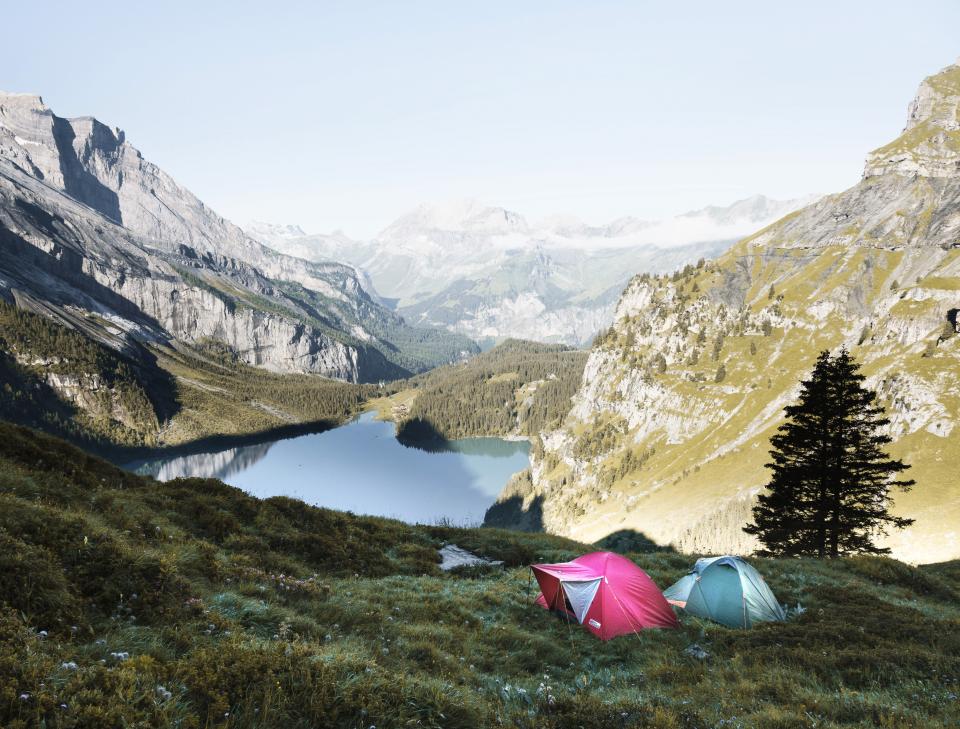 Show off this sunny shot of two tents camping in the valley of a mountain by Dino Reichmuth.
A Love for Camping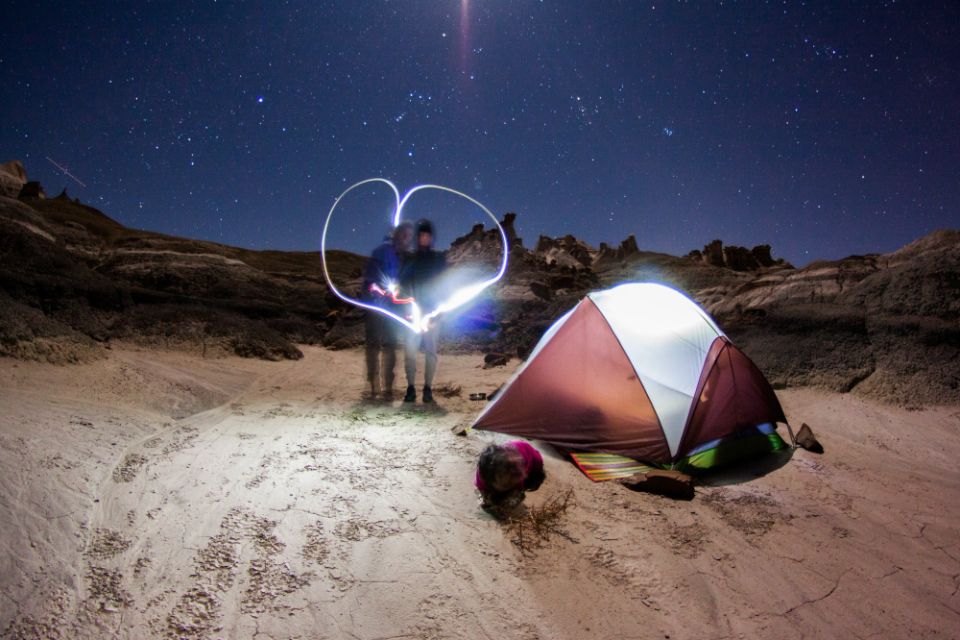 If you love camping, use this image of two people light-writing a heart outside of their tent on a starry night by Pete Johnson.
Well-Lit Tent on a Dark Night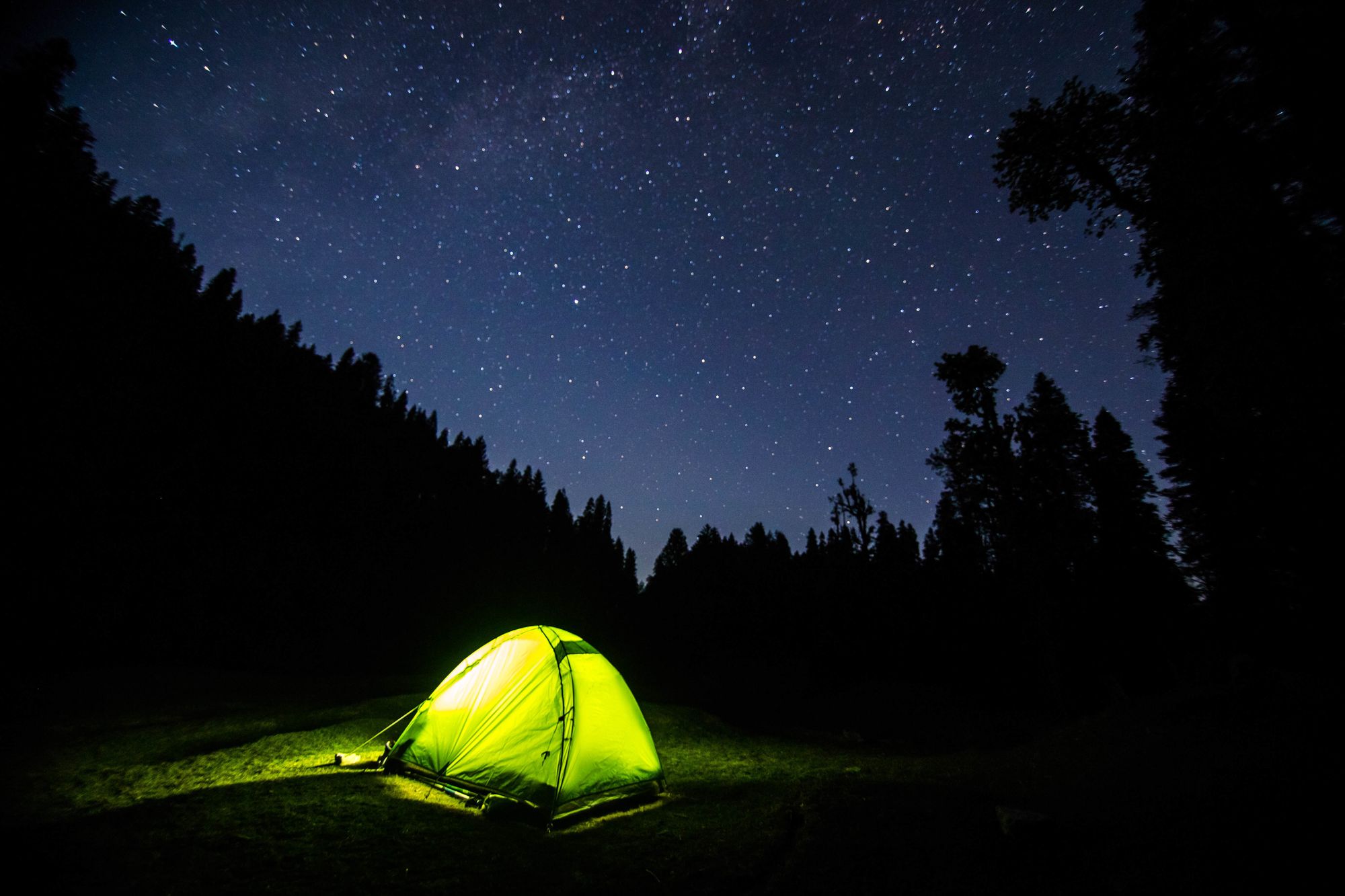 Need an alluring shot of a camping tent? Try this dramatic photograph of a neon green tent by Sayan Nath to give your nature blog or IG feed the glow it deserves.
Seeing From a Camper's Perspective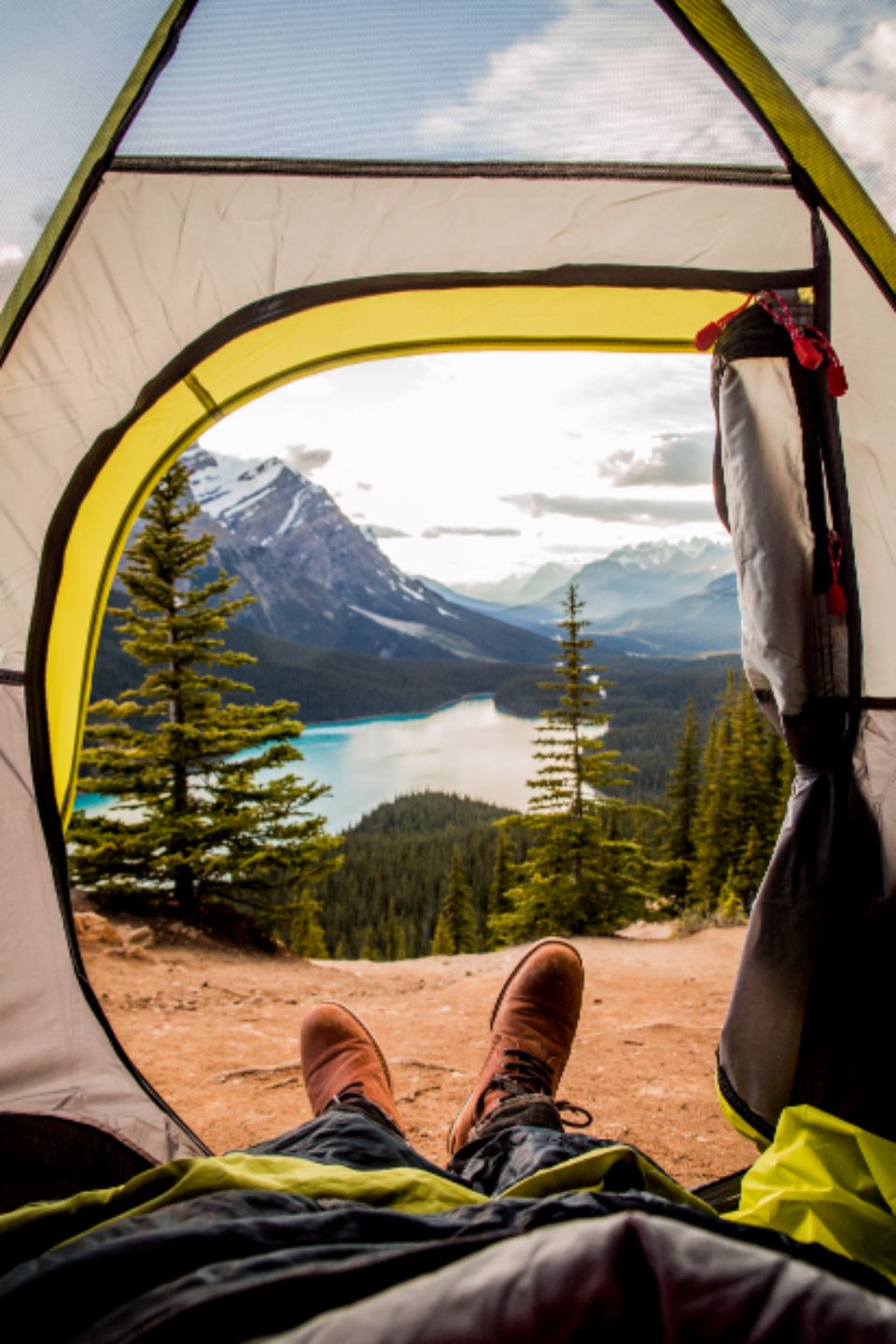 Immerse yourself in this image of a lakeside mountain, shot from the perspective of a person, by Elliott Chau.
Kettles Hanging Over a Fire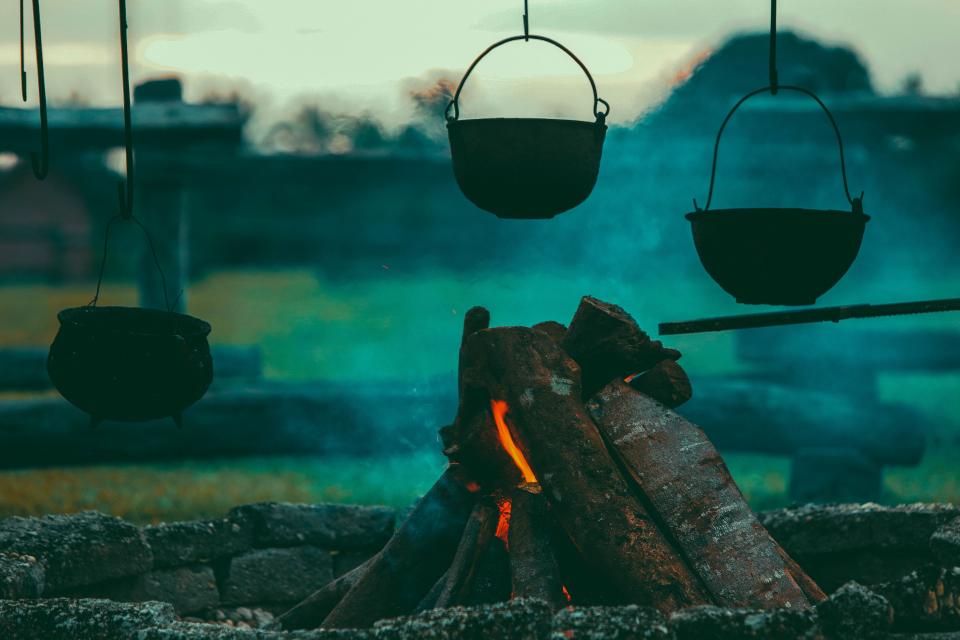 Show how useful a campfire can be with this photograph of three cast-iron kettles hanging over a smoldering flame by Tikkho Maciel.
Camp With a Large Group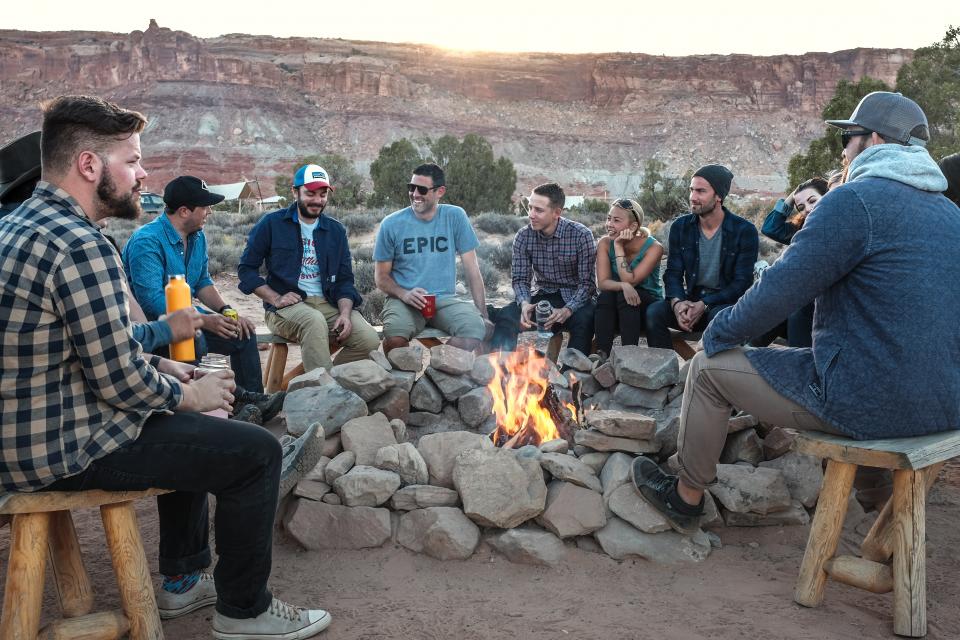 Need to show a large group camping together? Look no further than this photograph of a group of friends gathered around a campfire by Phil Coffman.
Tents Amongst the Trees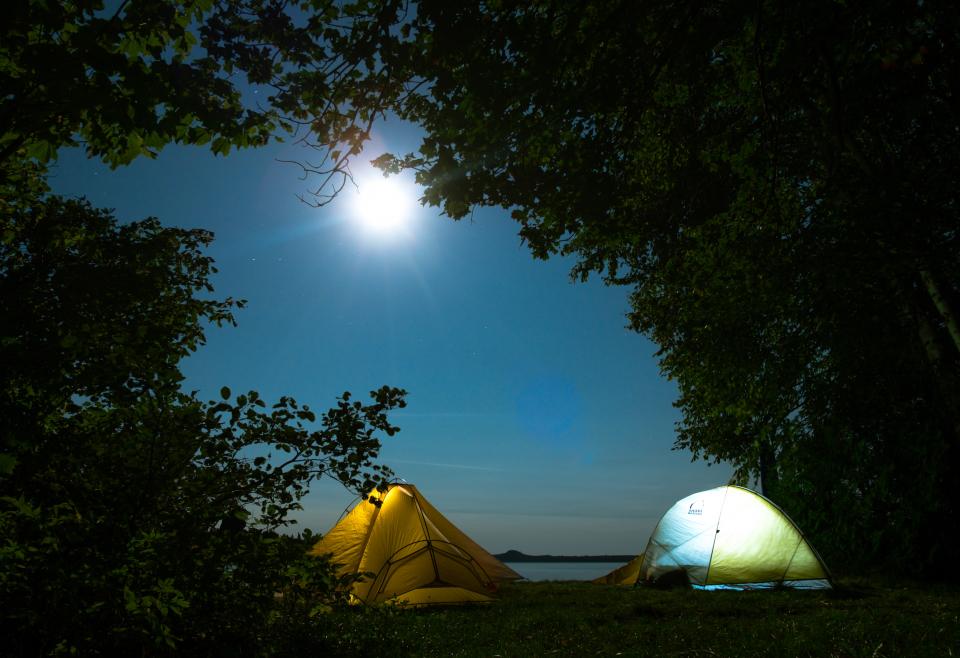 Become one with nature with this image of two tents under a lush canopy of trees by Tim Foster.
Gear to Document the Journey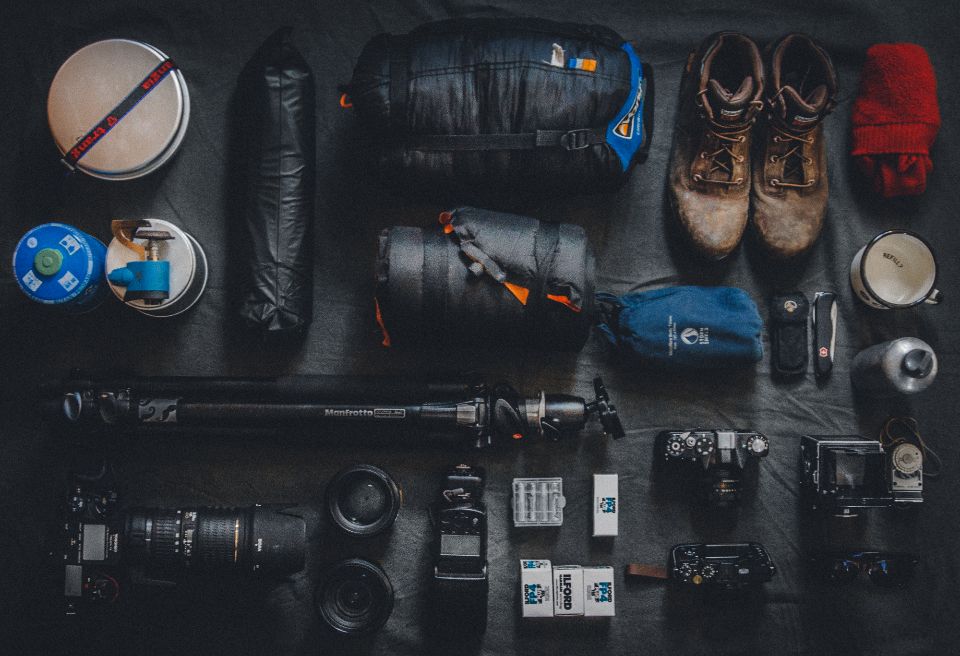 Show your camping essentials with this flat-lay image of camping and photography gear by Alex Andrews.
Sunrise on the Hillside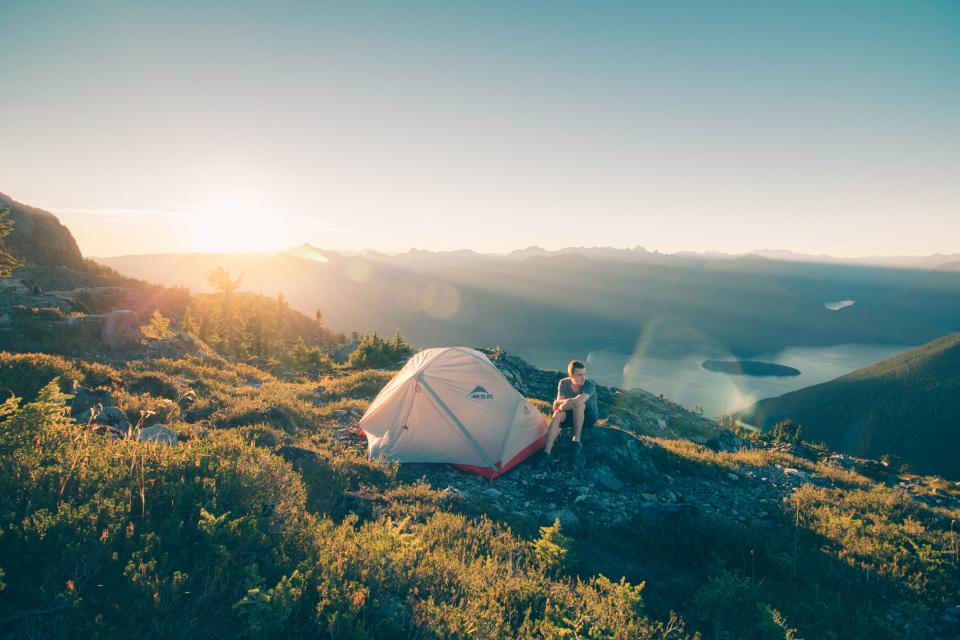 Use this image, by Glen Jackson, of a person sitting outside of their tent during sunrise to show how peaceful camping can be.
Sunset on the Lake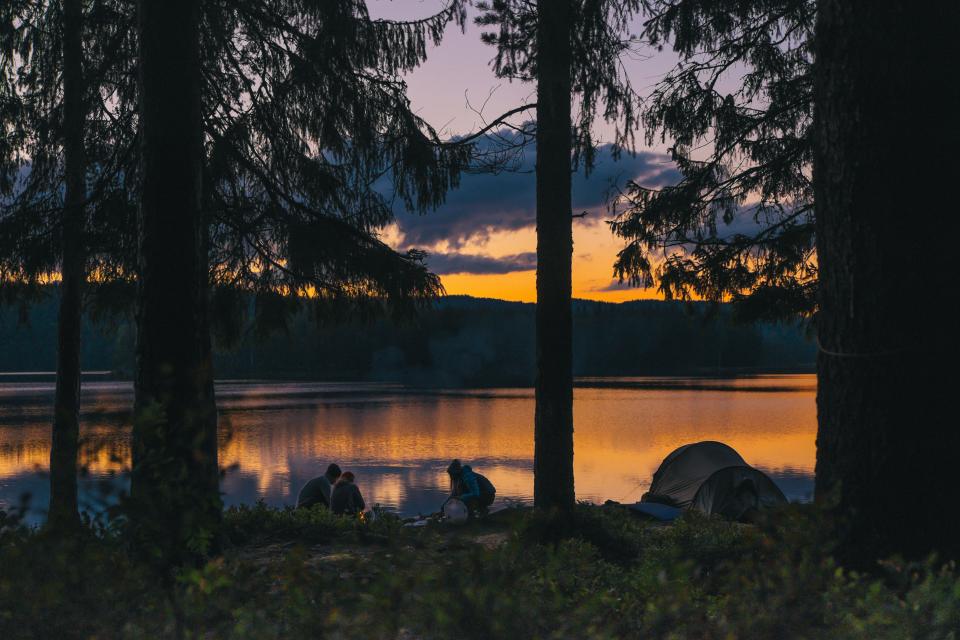 Tell your story with this sunset shot of friends camping lakeside by Andreas Ronningen.
Camp Knife in its Natural Habitat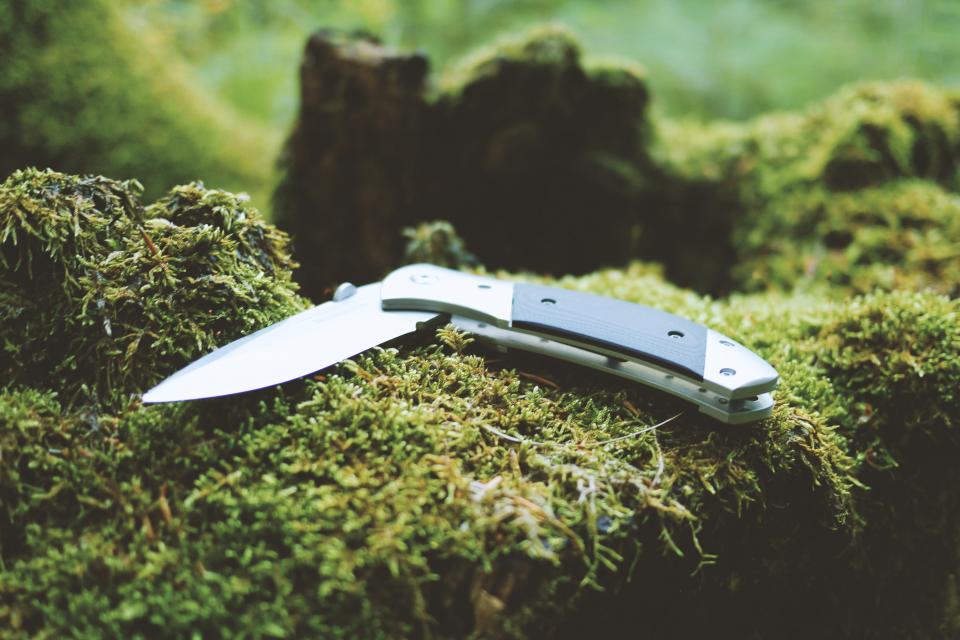 This image of a camping knife laying on a bed of moss, by Snufkin, is a cut above most images - use it when you blog about the great outdoors.
Coffee Warmed by Campfire
Enjoy this image of a cup of campfire joe captured by Alex Holt.
Hands Keeping Warm by the Flames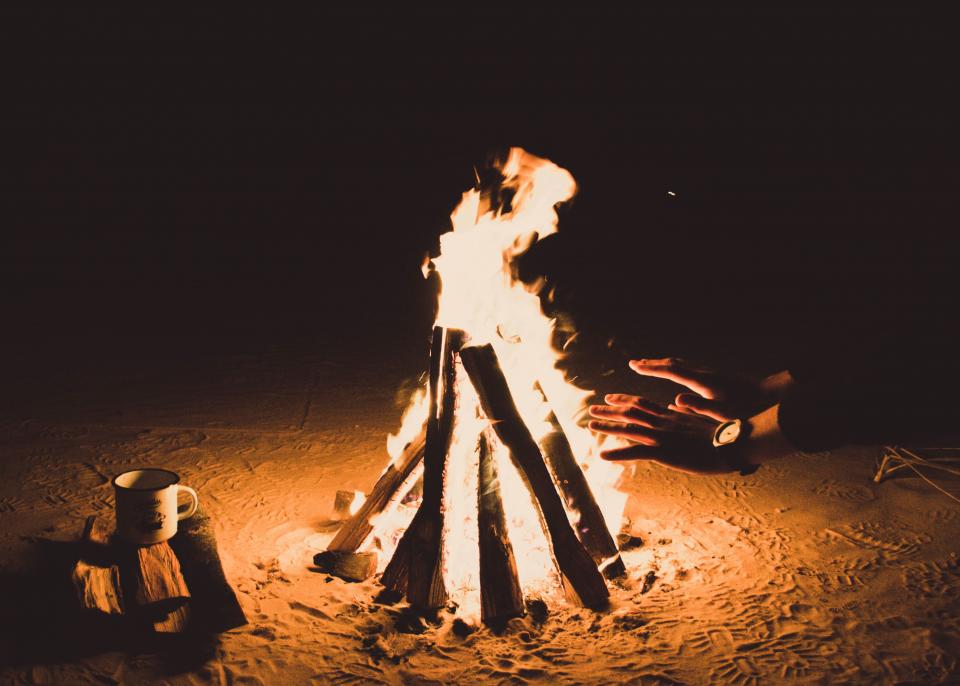 Keep the fire going with this dramatic shot, of hands keeping warm near a campfire, by Sandis Helvigs.
Starry Nights in Nature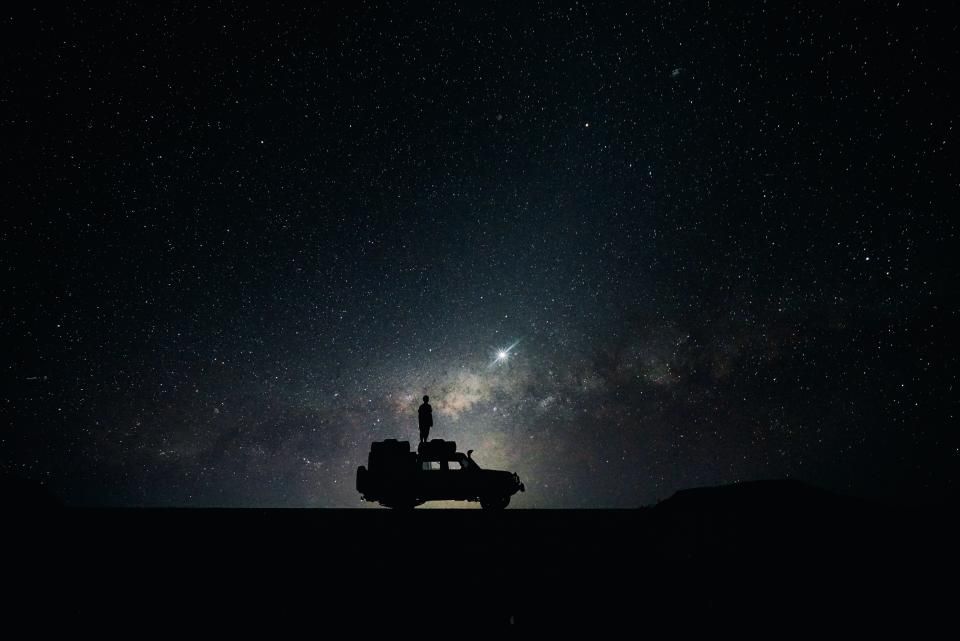 Enjoy the magical feeling of camping under the stars with this image by Jonatan Pie.