Explore the Game of Chess in 5 Free Stock Images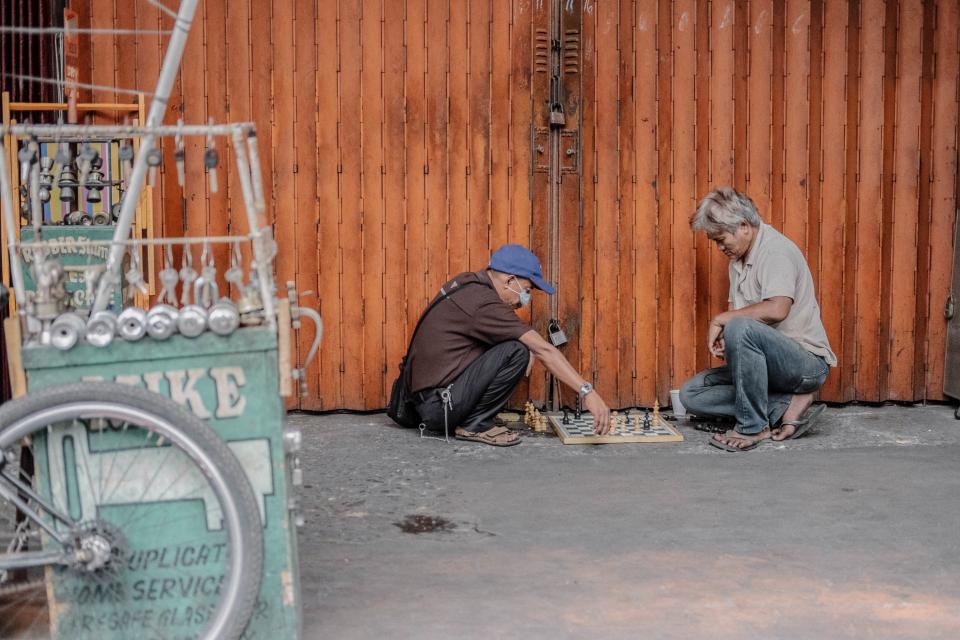 Have you ever played chess? With shows like the Queen's Gambit gaining popularity in recent years and Chess.com having millions of active users each day - it is safe to say that this two-player game is enjoyed by people around the globe.
In this post, we've compiled 5 free photos of chess boards, chess pieces, and chess players. So, are you ready to dive into this board game that originated in India circa 600 CE?
Scroll to find free stock images that you can download for FREE!
First, A Brief History of Chess
"Today we know that chess originated from the Gupta Empire (600CE), of India. However many people firmly believe that chess was played by the ancient Egyptians. But, the game we think of as chess and what the Egyptians used to play are completely different. Simply put, the Egyptians played something different that resembled chess. Despite this, we really don't know who first came up with the game, but it can be traced officially back to India.
The pieces come from the primary military elements of that time: the infantry, the elephants, the calvalry and the chariots.
Global trade eventually brought the game to Europe and around 1200CE the game undertook dramatic changes to become what it is today. In Italy and Spain, such changes gave their pawns the ability to move two squares on the first move, bishops their dominance over diagnals and queens their ability to move anywhere.
During the 18th century, the center of the chess world switched to western Europe to areas like France. Matches were played in large coffee houses in large cities such as London and Paris. It wasn't until the 19th century that chess became widely known."   -Chess.com Contributor / The History of Chess: The Basics
1. Man Picking Up an Ivory Chess Piece
"I have come to the personal conclusion that while all artists are not chess players, all chess players are artists." – Marcel Duchamp, French artist
♟️ Click here to download this free stock image by Jeshoots

2. King Chess Pieces in Black & White
"Avoid the crowd. Do your own thinking independently. Be the chess player, not the chess piece." – Ralph Charell, American former stock broker
♟️Click here to download this free stock image by Sebastian Voortman
3. Two Men Kneeling to Play a Game of Chess
"Chess is a war over the board. The object is to crush the opponent's mind." – Bobby Fischer, American chess grandmaster and 11th World Chess Champion
♟️Click here to download this free stock image by Yanni Panesa
4. Child Playing with a Wooden Chessboard
"Chess is a game that benefits people of all ages, especially kids, in any area of life, business, problem solving, and social skills. Chess has the unique ability to combine focus, concentration, imagination, coordination, teamwork, and leadership all at the same time." - Dustin Diamond, American Actor famously known as "Screech" from television show Saved by the Bell
♟️Click here to download this free stock image by Michal Parzuchowski
5. Chess Pieces on a Green Background
" The beauty and creativity of chess masterpieces as an art form gives me a sense of musical inspiration and wonder about what the human mind is capable of."- Keith Oxman, Chess Expert & Saxophone Musician
♟️Click here to download this image by George Becker
Didn't find what you're looking for? There are plenty of images to choose from on StockSnap.
References
Matthew. "History of Chess: The Basics." Chess.com, Chess.com, 15 May 2018, https://www.chess.com/article/view/the-history-of-chess.